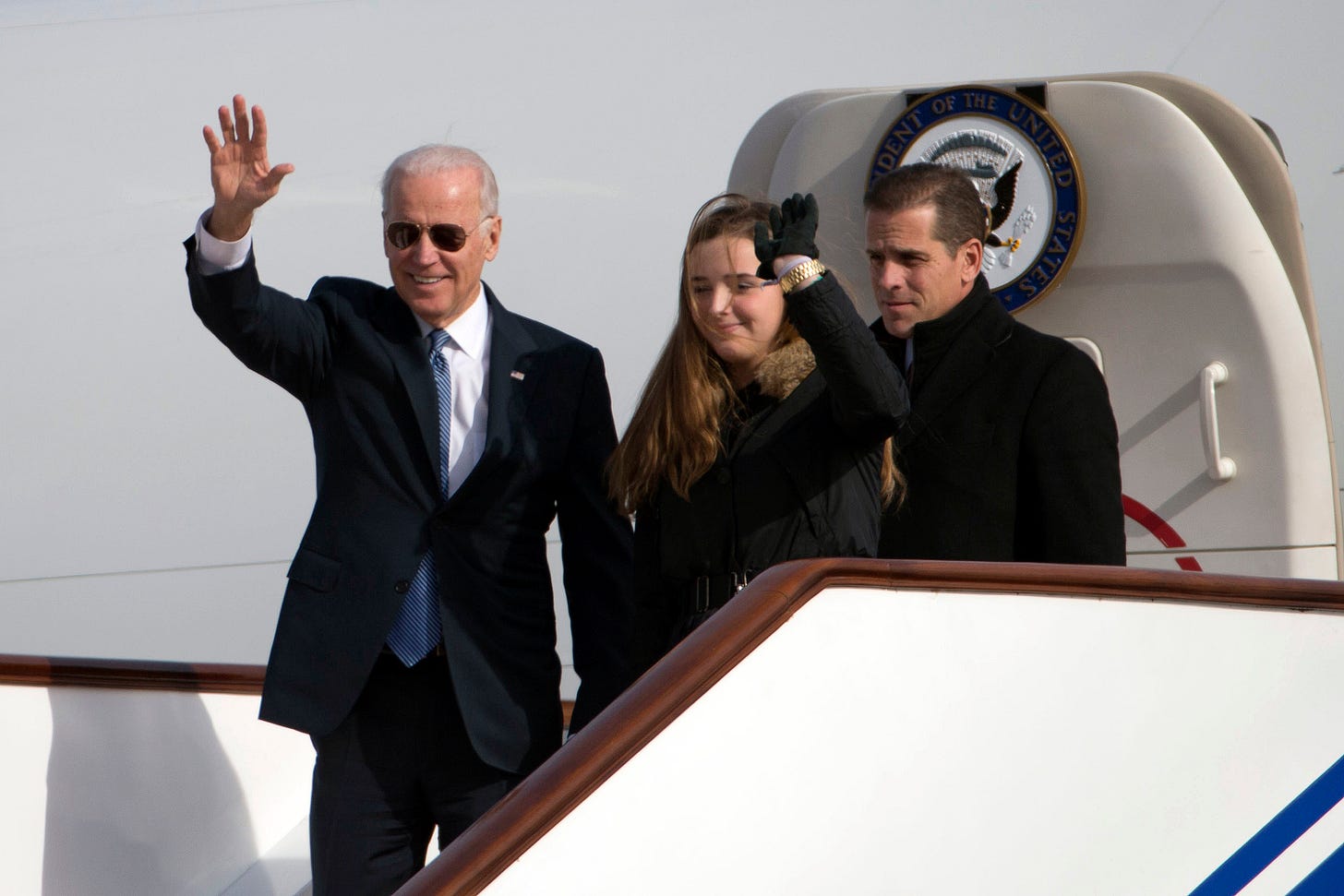 Related highlights:
—
It seems a lot of people in tech, media, and politics owe the New York Post an apology.

Director of National Intelligence John Ratcliffe said this week that the information contained on Hunter Biden's laptop, including potentially damning emails, "is not part of some Russian disinformation campaign." The Justice Department and the FBI, which is in possession of the laptop, concur with Ratcliffe's assessment.

How embarrassing for our benevolent tech overlords.

Twitter locked the New York Post out of its account on Oct. 14 after it published email excerpts purporting to show that Hunter Biden introduced his father, then-Vice President Joe Biden, "to a top executive at a Ukrainian energy firm less than a year before the elder Biden pressured government officials in Ukraine into firing a prosecutor who was investigating the company." Twitter also barred users from sharing the story. The New York Post is still unable to tweet from its official account. Facebook similarly restricted its users' ability to share the potentially damaging report.

Both social media groups offered a half-hearted explanation targeting the story's alleged "lack of authoritative reporting on the origins of the materials," which is a curious thing to assert considering not even Biden disputes the authenticity of the emails. It is even more curious in light of the intelligence community's determination that the New York Post's reporting is not part of a Russian disinformation scheme.

And how embarrassing Ratcliffe's assessment must be for our vaunted press, that bulwark of our democracy.

After the first report on Hunter Biden's laptop dropped last week, a number of high-profile journalists moved immediately to disprove it, alleging, without a shred of evidence, a Kremlin conspiracy. That Democratic officials and intelligence community has-beens allege the same is likely more than a coincidence.

CNN's Marshall Cohen said the "alleged emails underpinning the NY Post stories may be part of a Russian disinformation campaign."

It is important to note once again that neither Biden nor his campaign has disputed the authenticity of the emails, which came into the New York Post's possession via President Trump's personal attorney Rudy Giuliani.

"U.S. intelligence agencies believed that Rudy Giuliani was being worked over by Russian intelligence assets as a conduit to feed misinformation to the president of the United States," said the Washington Post's Philip Rucker.

The New York Times claims, "Trump said to be warned that Giuliani was conveying Russian disinformation."

New York Times White House correspondent Maggie Haberman added to the disinformation angle, asserting, "Confirming the WaPo reporting that Trump was given a warning about Giuliani and Russian misinformation late last year."

"Trump embraces reported Russian anti-Biden disinfo campaign," MSNBC declared in a headline.

NBC News's Ken Dilanian said elsewhere, "The picture here is that Rudy Giuliani, the president's lawyer, seems to have been in the crosshairs of Russian intelligence who were trying to peddle disinformation and discredit Joe Biden."

"Trump is reading from the teleprompter about the NY Post story," said HuffPost White House correspondent S.V. Date. "So he is now actively pushing Russian disinformation as part of his scripted campaign message. Just like 2016."

Politico's Natasha Bertrand, who is batting about .100 with anonymously sourced intel "scoops," authored a report this week titled "Hunter Biden story is Russian disinfo, dozens of former intel officials say."

The article's third paragraph states: "While the letter's signatories presented no new evidence, they said their national security experience had made them 'deeply suspicious that the Russian government played a significant role in this case' and cited several elements of the story that suggested the Kremlin's hand at work."

Ah, so we are back to the "it rings true" standard for verification.

Have you ever seen so many people in the journalism business work so hard to dispute a news report? You would think there would be an equal amount of effort from the press to verify the content and context of emails whose authenticity Biden has not disputed, but you would be wrong.

In the world of Democratic politics, the reaction to the New York Post's reporting has been the same.

"Why does Rudy Giuliani have access to the highest levels of government to be able to peddle this disinformation repeatedly?" Democratic Rep. Raja Krishnamoorthi of Illinois asked during an appearance on MSNBC.

MSNBC contributor and former U.S. ambassador Michael McFaul alleged the Hunter Biden story is an "obvious Russian plot."

"To me, this is just classic textbook Soviet Russian tradecraft at work," said perjurer, CNN contributor, and former spook James Clapper.

This is a curious thing to allege considering current U.S. Intelligence Community officials say there is no merit to the claim.

"Let me be clear," Ratcliffe said this week, referring to Democratic Rep. Adam Schiff's allegation that the New York Post's coverage is Kremlin disinformation. "The Intelligence Community doesn't believe that because there is no intelligence that supports that. And we have shared no intelligence with Adam Schiff, or any member of Congress."

"It's funny that some of the people who complain the most about intelligence being politicized are the ones politicizing the intelligence," Ratcliffe added. "Unfortunately, it is Adam Schiff who said the intelligence community believes the Hunter Biden laptop and emails on it are part of a Russian disinformation campaign."

Any minute now, the New York Post should expect apologies from the critics who accused it of doing Russia's dirty work. Any minute now.